Studio K Gift Certificates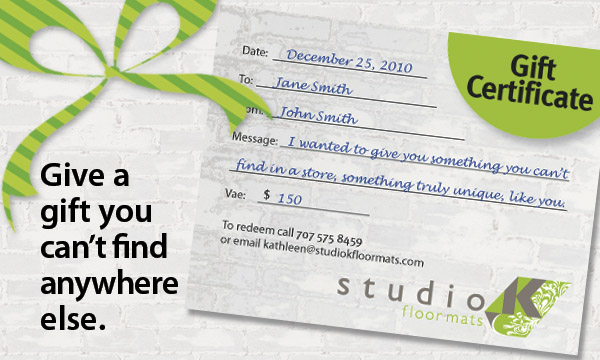 Purchasing a studio K gift certificate allows you the opportunity to give something truely unique, not found in the mainstream. You can purchase a gift certificate in any amount by simply emailing studio K directly with your request. A PayPal invoice will be emailed to you and the gift certificate can be mailed directly to the friend or loved one or to you personally. All gift certificates are redeemable by telephone or email to studio K and it's amount applied to any digital collection or custom hand painted floor mat order.
The perfect gift for holidays, birthdays, anniversaries or any special occasion.
All floor mats are created on recycled vinyl remnants or seconds - vinyl that would otherwise be thrown in our landsfills.