Decorative Floor Mats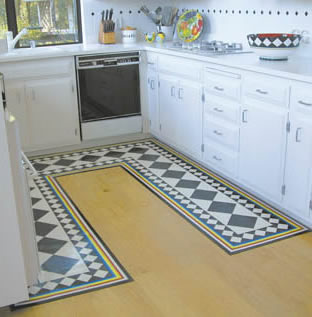 Decorative floor mats by Studio K offer something more than traditional rugs –durability and brilliant graphics. Unlike rugs which can stain or collect dirt, a floor mat can be wiped clean and chairs slide easily making them ideal for kitchens and dining rooms. Floor mats offer the best of both worlds – style and function.
Studio K offers:
Custom Hand Painted Floor Mats
Custom Digitally Printed Floor Mats
Digitally Printed Collection of Stock Designs
Handcrafted and Durable
Beautifully detailed designs are hand painted or digitally printed on a vinyl flooring material, bevel cut and coated with a protective finish for excellent durability and longevity. Floor mats are waterproof and stain proof and work perfectly on hard surfaces like hardwood, tile or concrete creating a soft, protective, durable, liquid/food barrier to the floor beneath.
All floor mats are created on recycled vinyl remnants or seconds - vinyl that would otherwise be thrown in our landsfills.