Artist Series
The capability of printing mats digitally has broadened the spectrum of studio K floor mats. Now we can offer a much larger artistic style by developing mats under an artist's name in designs we've admired. This series is devoted to such artists. Keep your eye on this series, it will increase in selection. These aren't just floor mats – they are floor art!

The Eric Martin Collection utilizes a traditional pen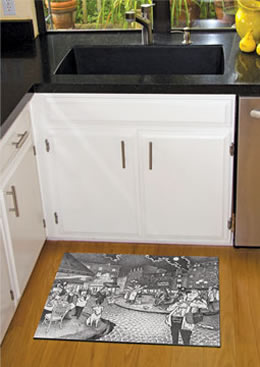 and ink crosshatch style to depict interesting places and characters that have their own unique stories. These illustrations give a "fly on the wall" observation of human nature. They are beautifully detailed, witty originals, adding something completely unique to your floor.

Each mat costs $95 (+ tax, shipping and handling) including non-slip under mat.
Note: All sales are final.
For indoor use only.
Allow 2 - 3 weeks for delivery.
All sizes are approximate and may vary by 1/8" all sides.
Offering ground shipping only.
If shipping out of the United States or to Hawaii or Alaska, order by email.
If you would like to make a size change, please email to order.

Jazz Joint


30" x 22"


Feel the music, be part of the crowd and constantly catch something new under foot in this jazz club mat.





Caffe Trieste


30" x 22"


If you love coffee and coffee shops you'll love standing upon these fellow java groupies.





A Song in Paris


30" x 22"


This mat is all things Paris from tourist to Parisian - enjoy the unique ambiance this mat adds to your decor.




All floor mats are created on recycled vinyl remnants or seconds - vinyl that would otherwise be thrown in our landsfills.